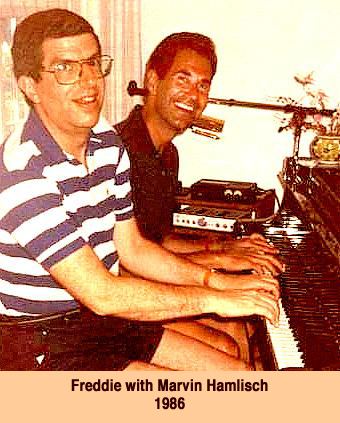 Webmaster's Note: The day after Marvin Hamlisch died on 6 August 2012, Props Master R. Jay Duckworth of New Yorks Public Theater put up on their Facebook page a photo of a single lit candle he had placed on the stage of the Newman Theater, where Hamlisch's legendary "A Chorus Line" musical was first performed. Freddie, a longtime friend of Marvin's (see photo), was very moved by Mr. Duckworth's tribute; so we are reprinting it here, with some text about the tribute from the props master himself and then Freddie's email to Mr. Duckworth in response. Below that is Freddie and Myrna's "letter to heaven" to their friend, Marvin, which they had printed in the New York Times on 14 August.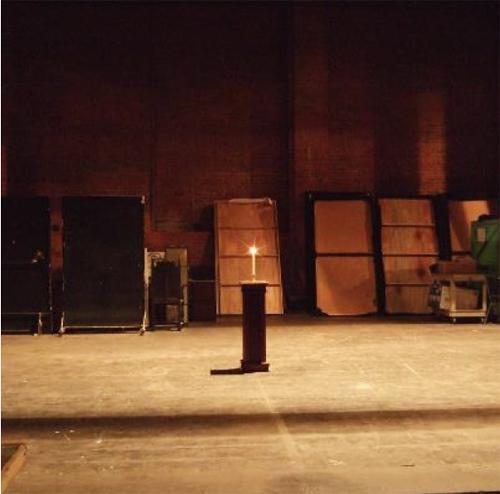 Some people requested this picture and I thought I would pass it on.
The night that Marvin Hamlisch passed I stayed after work and at half hour (7:30) set up the column and candle on center of the Newman stage where A Chorus Line started. I brought my computer out and set it on the house next to my seat cued up to the cast album of A Chorus Line. At places call (8:00) I lit the candle and pressed play. I thought it would be nice to share on The Publics Facebook page that Mr. Hamlisch was being remembered and honored so I snapped a picture and posted it. Like I said in the post I wanted to put up more candles but One seemed the appropriate number.
R. Jay Duckworth
Props Master
The Public Theater
Dear Mr. Duckworth –
I saw the photograph that you took in honor of Marvin Hamlisch.
It was elegant.
Just thinking about hearing a cast album on an empty stage with a candle is theatre and brought tears to my eyes.
I don't use Facebook, but I'm glad that someone in my office forwarded it on to me. It brought back Proustian memories of the days when I went with Marvin as his friend/attorney down to meet with Joe Papp and Bernie Gersten at the Public Theatre to work on this project that his parents were not happy about.
His mother made sandwiches for Marvin (tunafish with a lot of mayonnaise (with the traditional grease stain) outside of his brown paper bag). It smelled. Mrs. Hamlisch was convinced that Greenwich Village was a dirty place with Bohemian people and not where he should be. He was a classical musician who should be writing motion picture scores or serious works.
So I was blessed by watching some of the development of what we now know as A CHORUS LINE and then remaining friends with Marvin to the very end.
He and I shared a piano teacher at Juilliard where I was a piano player and he was a pianist. I was an ordinary student struggling to stay in and Marvin really was a whiz kid.
And I was five years older than Marvin, but we bonded – mostly because he had a great sense of humor, great attitude and intellectual curiosity about everything.
When our piano teacher died many years later, we both sat at her hospital bedside talking about the old days with her when we went to Juilliard.
He was officially a "mensch". A CHORUS LINE, THE STING, THE WAY WE WERE, all of the awards that accompanied them and the accolades and the television shows proved to come too soon and early in his career. He told me they created false expectations for what was to come, but he never stopped laughing and straddling the different worlds of the classics and pop music and film and theatre.
The simple gesture upon which you embarked and which you memorialized in such a loving fashion is a tribute to you, the theatre community, Oscar Eustis, The Public Theatre, the memory of Joe Papp, the memory of Ed Kleban, the memory of Michael Bennett, Jimmy Kirkwood and the other book writers and original cast who worked on this show – and to the very dear Marvin Hamlisch.
Thank you, Mr. Duckworth. If Marvin saw this picture (and I hope that he's looked at it), I know that he would find it very gratifying.
Appreciatively,
Freddie Gershon
Dear Marvin:
We're writing this letter to Heaven to tell you how much Myrna and I miss you.
From our first meeting in the early 1950's at the Juilliard School (when we shared Frances Goldstein as our piano teacher), through all of the adventures that followed and then again, through Ann-Margret and the irony of your coming to me as "your attorney" to guide you in so many matters as your friend to talk about so many other matters:  our trips on the IRT to see Joseph Papp and Michael Bennett and work on CHORUS LINE as you carried with you the brown paper bag from your mother with the tuna fish sandwich and the mayonnaise stains on the outside of the bag to the dramas and traumas which led up to THEY'RE PLAYING OUR SONG and the meeting of the "mothers" at The Bottom Line to the fun of THE STING and THE WAY WE WERE to the not-so-smiling-but-frowning "SMILE" with the gifted Howard Ashman and then running to see JEAN in London and then your wonderful work on THE SWEET SMELL, which was not a sweet success and turned out to be a not-so-sweet disappointment – only to be reversed in a very private fashion, not to be shared because the redemption of the entire experience which drove you back to the theatre once again, to the disappointments of THE GOODBYE GIRL to which we all said bye-bye – and all the other baddies and goodies and the all-time giggling and our trips to Georgetown for the white pizza parties and our time at the Reagan White House, your spirit, energy, charm and warmth, your never-ending charitable endeavors, always rushing to take care of everyone's medical and emotional problems, always maintaining a moral compass of decency, always focused on your commitment to music and keeping live music in concert halls and preserving the experience by bringing a great sense of theatricality and a generosity of spirit; those wonderful shared weekends in Southampton and then in Westhampton, in Connecticut and in Beverly Hills, at Hilhaven Lodge, in Benedict Canyon, on Park Avenue, the surprise 25th anniversary party you gave to us (gimme a break, Marvin!  You really blindfolded the string players!), all of the shared confidences, the intimacies, the true friendship, the camaraderie that can only come about when you know someone for about 60 years.
We bid you adieu.  And Marvin, old friend, nobody ever did so much for so many, and Marvin – nobody did it better.
Myrna and Freddie Gershon