Webmaster's Note: This is an excerpt of Freddie's 23rd blog for the Huffington Post, which appeared there on 4 June 2012. There is a link to the entire HuffPost at the bottom of this summary. Freddie especially appreciates it when comments are left at Huffington Post about his pieces there. The number of comments makes a difference in readership. To comment, you can log in using your Facebook, Twitter and several other social network accounts. Or create a HuffPost account. See links in upper right of any HuffPo page.


The specific occasions which inspired this blog were the May 29th, 2012, 7th Annual Shubert Foundation/MTI Broadway JR. Student Share presentation and the Mayor of New York's proclamation declaring that same day as "Music Theatre International Day," in honor of MTI's 60th Anniversary.
As Freddie noted in his Huffington Post blog:
This [MTI Broadway JR. Student Share] program takes schools without any arts in their curriculum, introduces musical theatre as a way of straddling music, visual arts, theatre, dance and theater crafts into the New York City schools in all five boroughs and prepares the schools with teacher workshops, parent education, community involvement and evolves into self-sustaining theatre programs, weaning the support team away from the school. All the schools that started have continued. There are 1,200 schools in the city of New York, so there is more work to do.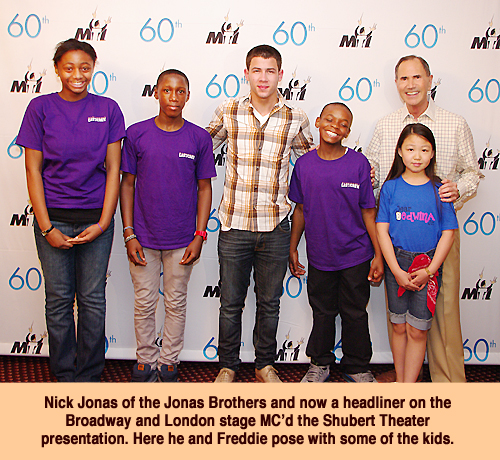 Fifty states utilize Broadway JR. to perform the same function. Four million U.S. students have heretofore participated in 70,000 separate productions of JR. musicals over the last 17 years. Those grade school students represent households with over eleven million Americans. This program makes the world a better place and makes the children better prepared to be good citizens working collaboratively and collegially, utilizing their imagination, creativity and inventiveness as well as doing an awful lot of hard work … and enjoying the hard-work ethic.
That very same day was "Music Theatre International Day," officially proclaimed by the mayor of New York City on the 60th anniversary of the founding of our company. This was particularly validating to me. I was simultaneously immersed with all of these children in the Shubert Theatre and knowing I conceptualized the JR. program in 1994 … Dreaming comes true with hard work and good partners and a mayor's proclamation. Wow!

Click here to see the blog at the Huffington Post site.
Click here to see a related story in Playbill.