Corona Youth Music Project performs!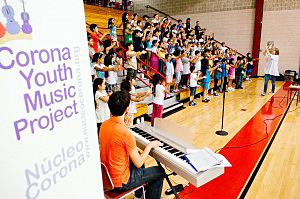 The Corona Youth Music Project, a nonprofit Freddie supports, will put on a complimentary concert Saturday, August 21st, outside of the Queens Museum of Art at 3pm. The Project is the parent organization that gave rise to the Corona Children's Choir Camp this summer, which Freddie also supported (see page below "Freddie helps send kids to (musical) camp.")
In addition to singing tunes from around the world, the kids are planning on doing a mash-up of Lady Gaga and Beethoven!

Click here to see TimeOut New York's online story.