How one Sondheim award winner gave a student the confidence to succeed.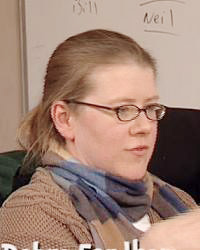 This is how Debra Fordham (pictured right) went from a drummer in her brother's band to a three-time Emmy-nominated television writer (for Scrubs, twice in 2007 and once in 2006.)
I first met Jacque Wheeler in 1988. I'd stopped by Valdosta State for a campus visit before deciding that college wasn't for me. (My brother had a band in Nashville, needed a drummer…) To my surprise, over the next year, Jacque called several times. Never mind that I hadn't left a phone number. She'd track me down and tell me I was always welcome at Valdosta State.
At first, I thought she was crazy. Yes, I'd expressed interest in the theatre department, but my only experience came from one semester of community college. I couldn't sing, couldn't dance. I didn't know any monologues. Why was she pursuing me? Still, there was something about those calls. Jacque seemed to genuinely believe that I could be more than I was — and she made me believe it too. So I put down the drumsticks and enrolled in college, all based on nothing more than a stranger's faith in me.
I spent three years tucked under Jacque's wing.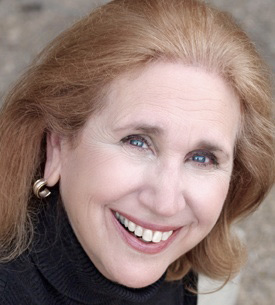 I wasn't sure what career path to take, so naturally, she encouraged me to try everything – acting, directing, stage managing. But then I found my way into her playwriting class, during which she declared with absolute certainty, "You are a writer."
Me? A writer? It was laughable. Writers are Ivy League grads, English majors, worldly people with biting wit – not small-town Southern girls who learned what little grammar they knew from watching "Schoolhouse Rock". I simply couldn't accept her conclusion.
"Are you writing? You should be writing…"
After graduation, Jacque would call every few months, determined to convince me that I could write.
"Are you writing? You should be writing…"
It took years, but her belief eventually became my own. And two decades later, I am a three-time Emmy-nominated television writer, living a life I never dreamed possible.
Here's the thank you letter Debra sent the Sondheim award:
I just wanted to thank you again for awarding my nominated teacher, Jacque Wheeler, the Sondheim Inspirational Teacher Award.  In the weeks since the announcement, Jacque has been flooded with congratulations and has achieved a new-found respect from the college at large.  Honors have included various newspaper articles, a formal ceremony/reception thrown by the president of the university and a mayoral proclamation from the city.  Even our representative to the state legislature is drafting a resolution to honor Jacque!
But more than these superficial honors, I wanted you to know that this award is solely responsible for Jacque's theatre department receiving an additional $25,000 in scholarship money from the university — and for a small college during an economic downturn, that is HUGE.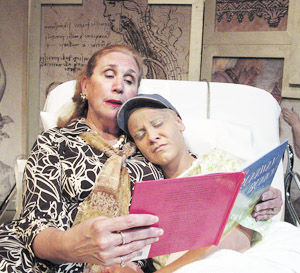 As I'm sure you're aware, the arts are often given short shrift on a college campus — both in resources and in respect.  This award has single-handedly sparked a seismic shift at VSU.  And for that, I simply cannot thank you enough.
Perhaps this was your intention all along when creating the award, but I suspect even you might be surprised to know just how far-reaching this kind gesture has been.  Please pass along my gratitude to all involved.  And know that the work you are doing is not only important, but life-changing.
Click here to see a related story, online, that appeared in the Valdosta (Georgia) Daily Times.